See Alumni Engagement Toolkit (PDF 1.4 MB)
Each year, thousands of citizens from countries around the world take part in exchange programs – U.S. government sponsored as well as privately funded. American Spaces can help alumni of exchange programs maintain a connection with the United States and can provide opportunities for them to share insights and experiences they gained in the U.S.  More information on the various types of exchanges can be found here.
Alumni as Resources
Alumni speak with local, credible voices and can partner with American Spaces to run programs. They have an understanding of both American and local cultures that enables them to present American perspectives in a way that resonates with local audiences. They speak local languages, enabling them to reach broader audiences through American Spaces. Alumni are generally experienced professionals and often experts in their fields.
Alumni can highlight their cultural experiences, organize events, and programs, discuss the benefits of exchange programs or share knowledge and insights acquired during their exchange experience. They can teach English or lead conversation clubs as a means of keeping up their own English proficiency. For EducationUSA advising, they can provide firsthand accounts of what it's like to live in the United States and study at a U.S. academic institution. Alumni can help create programs to increase understanding of American culture, using local language and customs to create connections between the cultures.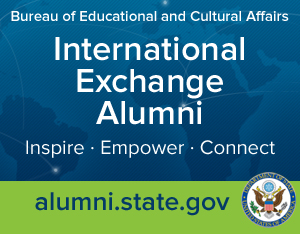 Examples of programming drawing on alumni:
Alumni were able to interact virtually with Salman Khan, founder of the Khan Academy, during a webchat in which he discussed his online library of free educational videos. Though anyone could view the chat, Mr. Khan took questions exclusively from alumni of U.S. government exchange programs, many of whom were participating in the discussion from American Spaces.
The American Center in Kolkata, India, hosted a two-day event called "Experience America Blitz." The event in Kolkata brought the ambassador together with alumni to discuss their work in fields including anti-trafficking, AIDS prevention and youth volunteerism.
Finding Local Alumni
The International Exchange Alumni website is available to all former and current participants of U.S. government-sponsored exchange programs. American Spaces coordinators are eligible for guest accounts on the International Exchange Alumni website. To sign up, please email the following information to webmaster@alumni.state.gov:
Full name
Official title and name of American Space
Email address
Name and contact information for the Public Affairs Officer at the embassy
You also can contact the public affairs section at the embassy/consulate to identify alumni near your American Space.
Alumni Engagement Innovation Fund
The State Department sponsors an annual Alumni Engagement Innovation Fund (AEIF) competition to support alumni initiatives that promote shared values and innovative solutions to global challenges. The competition provides small grants to teams of former and current participants of U.S. government-funded exchange programs to carry out public service projects that rely on experience and knowledge they have gained through their exchange. American Spaces can support AEIF grant applications by offering free use of space, access to a computer or a telephone for the duration of the project and by writing a letter showing the American Space's support for the proposal. Contact the public affairs section at the embassy/consulate to learn more.