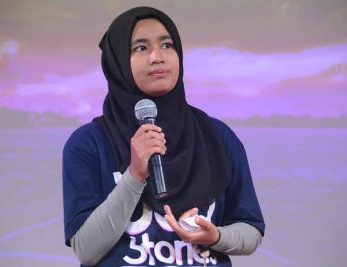 Digital storytelling is a form of self-expression that combines the tools of modern digital technology and social media with the traditional sharing of personal or community narratives. By allowing individuals to share their stories, storytelling networks can foster positive social dialogue and serve as powerful tools to build connections and a sense of community among those who may be vulnerable to extremist messages.
Regional Public Engagement Specialist Sarah Ziebell has created a basic digital storytelling programming guide (PDF 869 kb) based on her experience developing the 365Stories Digital Storytelling Network while based in Jakarta. With support from IIP and the Bureau of Educational and Cultural Affairs, the network offers digital storytelling training and mentoring through workshops in American Spaces in Malaysia and Indonesia, and the participants have produced more than 50 multimedia stories hosted on the network's 365Stories Tumblr site.
The 365Stories guide describes how the program can be applied in American Spaces across the globe. Additional details, templates, sample presentations and more are available by contacting myamericajakarta@state.gov. More best practices and sample projects are available through ECA's Collaboratory at ecacollaboratory@state.gov.