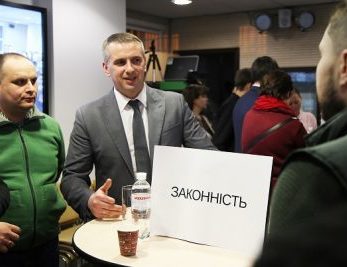 A Guide to Informally Engaging Community Leaders
The Leadership Cafe (PDF 4 MB) is designed as an informal process for residents to meet the leaders of the community. It creates a platform for open dialogue in an informal atmosphere that builds connections among speakers and participants, breaks down stereotypes and fosters transparency. It is a simple and flexible format for hosting large group conversations. In a cozy atmosphere of a "city cafe," participants discuss important issues, such as local reforms, anti-corruption, business and international development.
In January 2018, America House Kyiv used this process to enable community residents to engage detectives, prosecutors, and journalists on the topic of counter corruption in Ukraine. Based on the highly favorable response, America House plans to use the process again in a discussion aimed at countering gender stereotypes related to women in law enforcement.
In addition to involving local organizations, the Leadership Cafe provides a format for sections of the Embassy outside of Public Diplomacy, as well as other U.S. government agencies with a presence at the Embassy, to utilize the American Space for engaging the community in topics of interest to those sections. For example, the January program was held in partnership with the International Narcotics and Law Enforcement Affairs (INL) section of the Embassy. As if meeting in a cafe, prosecutors, detectives, journalists, and activists interacted with local residents in a relaxed and informal atmosphere.
For more information about the Leadership Cafe process, contact Regional Public Engagement Specialist Magia Krause.