16 DAYS OF ACTIVISM AGAINST GENDER-BASED VIOLENCE TOOLKIT
RESOURCE TOOLKIT FOR AMERICAN SPACES
This Resource Toolkit is designed for programming at American Spaces to create a greater awareness of gender-based violence and assist American Spaces' programming for the 16 Days Campaign.

RESOURCES
Online Course on Women's Rights by the Young African Leadership Initiative. Learn about the unique educational, economic, and social barriers facing women and girls, and the practical steps needed to alleviate these barriers.
Film on GBV with Lesson Plans Audrie & Daisy: This documentary tells the stories of two teenage girls who were sexually assaulted by their supposed friends. The film can be accessed on Netflix and there are free lesson plans (http://bit.ly/GBVFlmLP) that can be used even without seeing the film.
WHAT IS THE 16 DAYS OF ACTIVISM AGAINST GENDER-BASED VIOLENCE (GBV) CAMPAIGN?
The 16 Days of Activism Against Gender-Based Violence is an international campaign that seeks to link women's rights with human rights. Each year it starts on November 25, the International Day Against Violence Against Women, and concludes on International Human Rights Day on December
Each year the 16 Days Campaign is centered around a different topic area of gender-based violence. Visit the Center for Women's Global Leadership's website for lesson plans regarding 2023's theme.
MORE RESOURCES
eShop Collections*
Textual/Photo/Video Resources
Photo Archives
*eShop collections include a selection of products, including books, games, posters, kits, etc, on specific topics that may be used for programs to engage target audiences.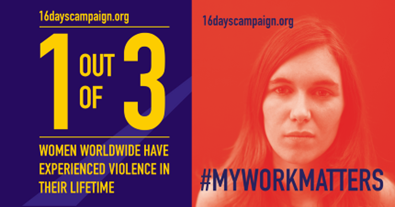 FILMS AND VIDEO
Norma Rae (1979, 1hr 54min)
Based on a true story, Norma Rae works long hard hours in a cotton mill and can't afford to quit. She embarks on a difficult journey to fight for better working conditions.
League of Their Own (1992, 2hr 8min)
This comedy-drama set in 1943 gives a fictionalized account of the historical All-American Girls Professional Baseball League.
Hidden Figures (2016, 1hr 29min)
This biographical drama tells the inspirational story of three female African-American mathematicians working for NASA.
Joy (2015, 2hr 4min)
Set in New York in the 1990s, the film follows the challenges and joys of a women starting her own business.
For more movies* covered under the Motion Picture Licensing Corporation (MPLC) agreement, go to http://bit.ly/MLPFlms and click on Suggested Film Titles by Category and at the bottom of the spreadsheet, scroll to the tab on "Gender-Based Violence."
Other Programming Ideas
Work closely with your Public Affairs Section to program around the 16 Days Campaign. Here are more ideas for programming at American Spaces:
Have U.S. government officials, alumni from U.S. exchanges, and/or a local experts to speak on gender-based violence.
Hold Awareness Raising Events like sports tournaments, flash mobs, contests, debates, or runs.
Run a social media campaign to raise awareness.
Conduct a Human Library Event related to GBV (https://humanlibrary.org/about/).
*Post will need to procure these films. The Office of American Spaces is not endorsing these movies as they may not be appropriate fo all audiences. Coordinators should screen the films ahead of showing them.
The views expressed in these links and resources do not necessarily reflect those of the U.S. government.
Updated April 2023
---