Office of American Spaces Leadership
The Office of American Spaces has 18 staff members in Washington and four staff members in Vienna, Austria. We provide services and support to American Spaces and advocate for them across the State Department, with Congress and to other U.S. government agencies.
Learn more about our Director Alfred Boll and our Deputy Director Kit Bartels.
Director
Alfred Boll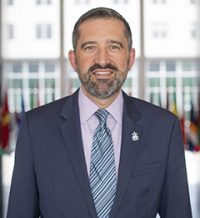 Alfred ("Fred") Boll is the Director of the Office of American Spaces. He joined the Department of States as a Foreign Service Officer in 2003, and has served overseas in Amsterdam, Baghdad, Lisbon, Rio de Janeiro, and Pristina. From 2016-2019 he led the Bureau of Educational and Cultural Affairs' (ECA) "EducationUSA" Branch that promotes study in the United States. He most recently served as Senior Refugee Coordinator for the Bureau of Population, Refugees, and Migration (PRM) at the U.S. Embassy in Baghdad, managing over $250 million in humanitarian assistance and overseeing U.S. refugee resettlement from Iraq. He previously served as Deputy Director in PRM's Office of International Migration in Washington from 2014-2016. He is a lawyer by training, admitted in California, Wisconsin, and New South Wales in Australia. He holds a BA (Honors) degree from the University of Chicago in Political Science; JD and MA (Latin American and Iberian Studies) degrees from the University of Wisconsin-Madison; and a doctorate (SJD) in International Law from the University of Sydney. Prior to joining the Department he was a delegate and legal adviser to the International Committee of the Red Cross (ICRC) from 1993-2003 based in Jakarta, Hong Kong, and Sydney.
Deputy Director
Kit Bartels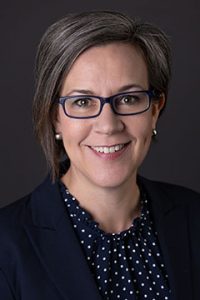 Kit Bartels is the Deputy Director of the Office of American Spaces. She served previously in various roles in ECA from 2014-2019, including as Branch Chief for the Fulbright Program's Middle East & North Africa portfolio (2016-2019), Chief of Staff to former Assistant Secretary Evan Ryan (2015-2016), and Deputy Director of the Fulbright Foreign Scholarship Board (2014-2015). Most recently, Kit served as Team Lead and Director of Outreach for Programs and Policy in the Bureau of Diplomatic Security's Overseas Security Advisory Council (OSAC), one of the Department's largest public-private partnerships.  During her 18-year civil service tenure in the Department of State, she has also managed programs for the Middle East Partnership Initiative in the Near Eastern Affairs (NEA) Bureau and worked as a regional NEA threat analyst for Diplomatic Security.  Kit started her career as an officer in the U.S. Air Force and has a master's degree in Near Eastern Studies from the University of Arizona and a BA in Linguistics from Miami University (Ohio).