SUPPORTING STUDENTS WITH DISABILITIES
DISCUSSION GUIDE FOR A WEBINAR FROM THE OFFICE OF THE U.S. SPEAKER PROGRAM
This Discussion Guide is designed for virtual programming at American Spaces and EducationUSA centers to give interested international students insight on how universities in the U.S. support students with disabilities.
SPEAKERS
Ann Cody – Special Advisor, Disability Rights Bureau of Democracy, Human Rights and Labor speaks on different laws in the United States prohibiting discrimination.
Dr. Ana Palla-Kane – IT Accessibility Initiative, Univ. of Maryland speaks on different types of accommodation for students and different online resources for students researching school options.
Tilly Griffiths – International Student, Stanford University describes her experience applying as an international student and seeking accommodations at Stanford.
RESOURCES
Useful Links cont.
Key Terms
Americans with Disabilities Act of 1990 – Prohibits schools from discriminating based on physical capability.
Disability/Accessibility support services – The office at a university that oversees accommodations for students with disabilities.
Accommodations – Any kind of assistance for students with disabilities to make their studies more accessible. These can include large text books and additional testing time.
CART – Real time English- language translation services for deaf students, options vary by university (Communication Access Realtime Translation).
Support/Service Animals- Any animal who is part of a student's routine care and who provides some kind of medical assistance.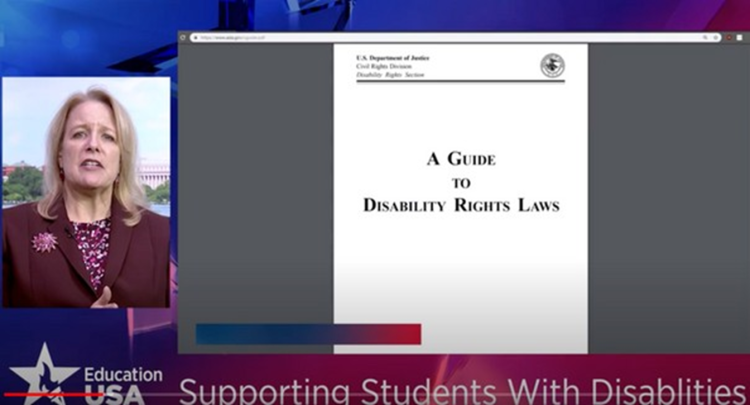 About the Webinar
This program offers practical advice and considerations for international students with disabilities who want to study at a U.S. university. The speakers touch on a variety of topics discussing different types of accommodations and services available, advice for students when applying and once on campus, and laws that protect individuals with disabilities.
Discussion Questions
Preview the video beforehand to determine which parts of the webinar you will show. Also, consider stopping the webinar periodically to engage your audience with the below questions as appropriate.
What laws protect students with disabilities in the United States?
What should students bring with them when they request accommodations for the application or on campus?
What different types of accommodations are available to students with disabilities and how does it vary per school?
What considerations does Tilly mention when discussing her application experience?
What transportation options are available to people with disabilities?
What options are available for students who need mental health resources on campus?
The views expressed in these links and resources do not necessarily reflect those of the U.S. government.
Updated April 2023
---